The purpose of
POD Wake County
is to address the overweight/obesity epidemic in young children attending childcare by creating a built environment intervention to transform selected childcare outdoor learning environments (OLEs) into active, productive best practice demonstration sites (eight in Phase One and eight in Phase Two). The six-year project focuses on design, management, technical assistance, and early childhood educator training to create high-quality outdoor learning environments.
Our Virtual Field Trip is an experience that showcases the many aspects of POD design through the eyes of the designer, a director, and an owner.
Major activities include:
Creation of outdoor learning environment demonstration sites in Wake County through participatory design processes, training, site management, and community engagement and fundraising support.
Technical assistance to convert unattractive "playgrounds" devoid of nature into productive OLEs for children, families, and the community.
Study tours and interactive training at demonstration sites.
Interactive design sessions twice a year to engage additional centers (60 centers by the end of the project).
Evaluation process to measure environmental and behavioral changes including attitudes towards outdoor activities by childcare providers.
Technical assistance provided on-call and online via publications, videos, and the Green Desk.
POD Wake County Demonstration Sites
Supported by:
John Rex Endowment
At the POD Wake County Design Workshops, childcare centers come together to better understand why young children benefit from spending time outside and how to make changes to their OLEs.
The sessions are a combination of presentations and hands-on activities and are the beginning of the POD process. The center owner, director, and/or staff along with an NLI design professional work using construction paper cut-outs to envision the center's new OLE design following design best practices that promote physical activity, healthy eating, and learning.
In 2012, NLI partner Advocates for Health in Action (AHA) joined us at the first POD Wake County design workshop.
I gained a better understanding in how an OLE is designed. Putting ideas on paper, using visuals to design a plan and brainstorming. Sometimes just talking through an idea can create a better, a larger or a more desirable outcome.
I am a hands on person so actually doing the design put the whole process into perspective.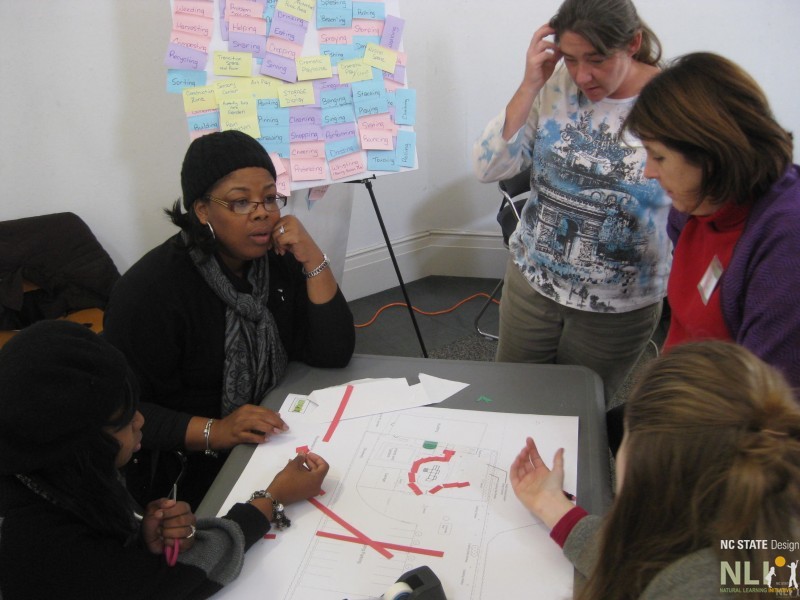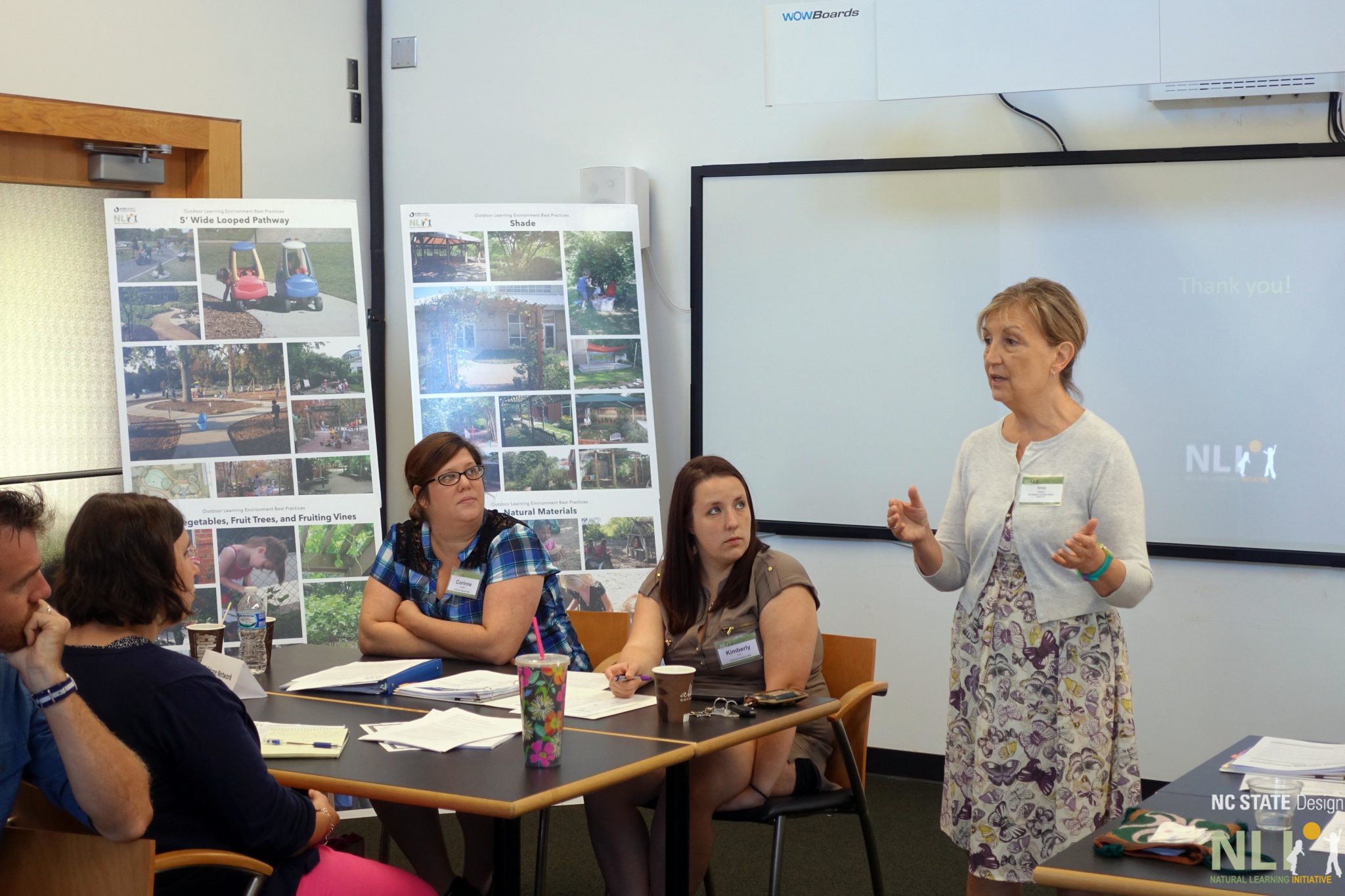 POD Wake County Newsletter Archive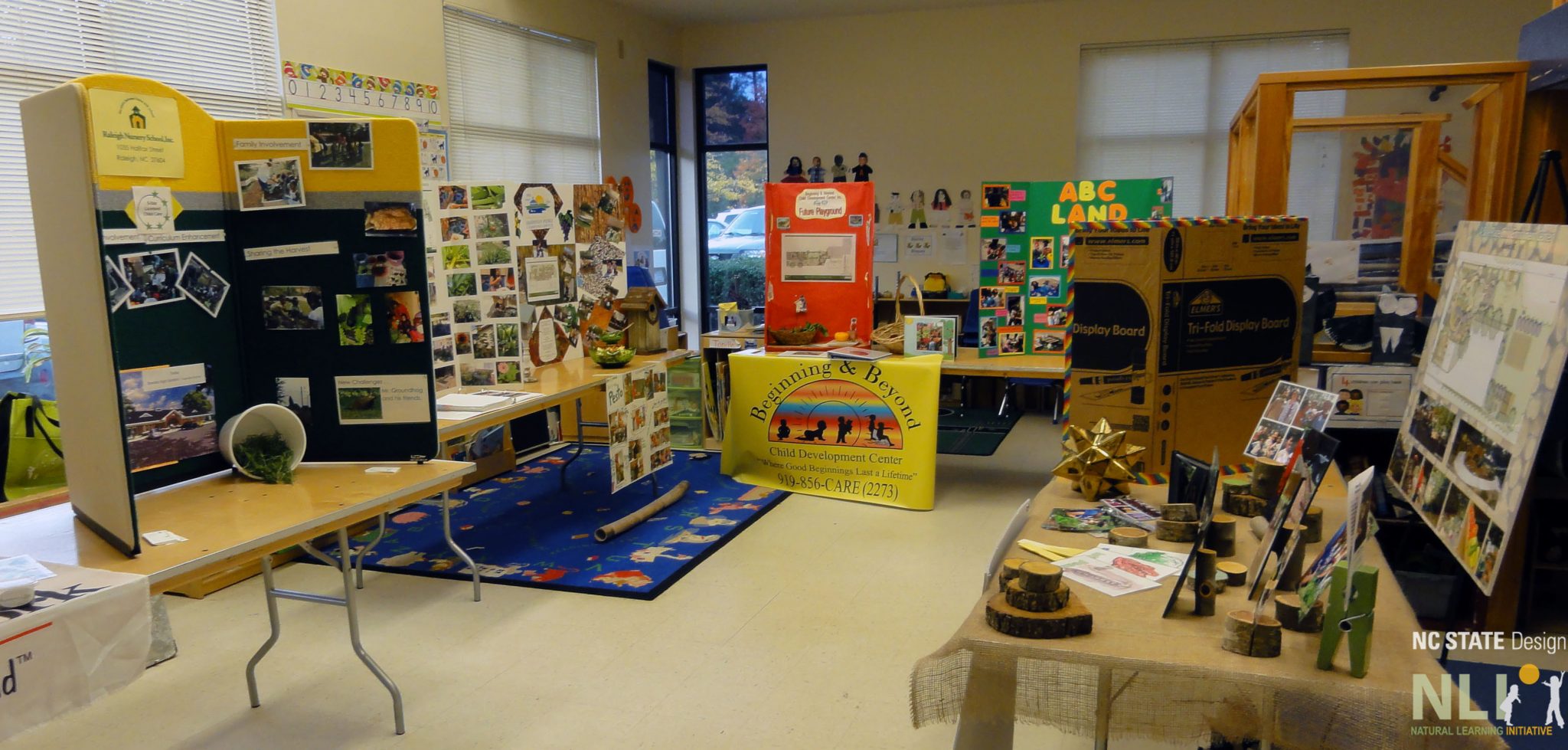 On November 1, 2014 more than 55 childcare teachers, center directors, and owners came together at Heather Park Child Development Center for an introduction to POD-Wake Co. demonstration center network and to the benefits of connecting young children to nature.
Eight demonstration centers, in two cohorts have participated in POD-Wake Co.. Each center worked with the NLI Design Team to renovate their OLEs through a participatory design process. In addition, the POD-Wake Co. Garden Trainers and Wake Smart Start Quality Enhancement Specialists make regular visits to each center to guide implementation of the designs, utilization of community engagement and local resources, and planting, tending, harvesting, and eating activities with the children.
Each demonstration center created a tabletop display to share. Participants circulated through the showcase display to see photos, site maps, and sample nutritious foods.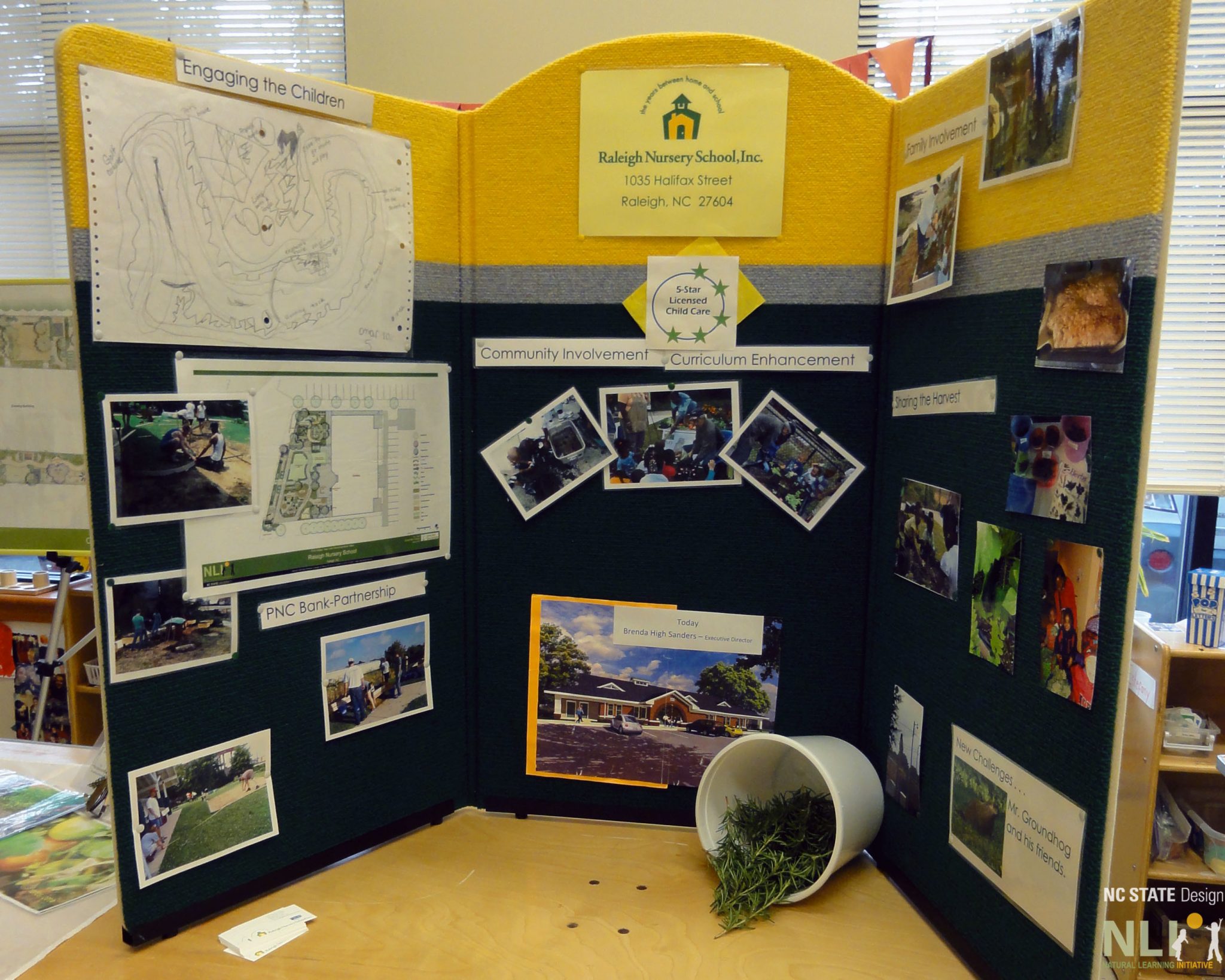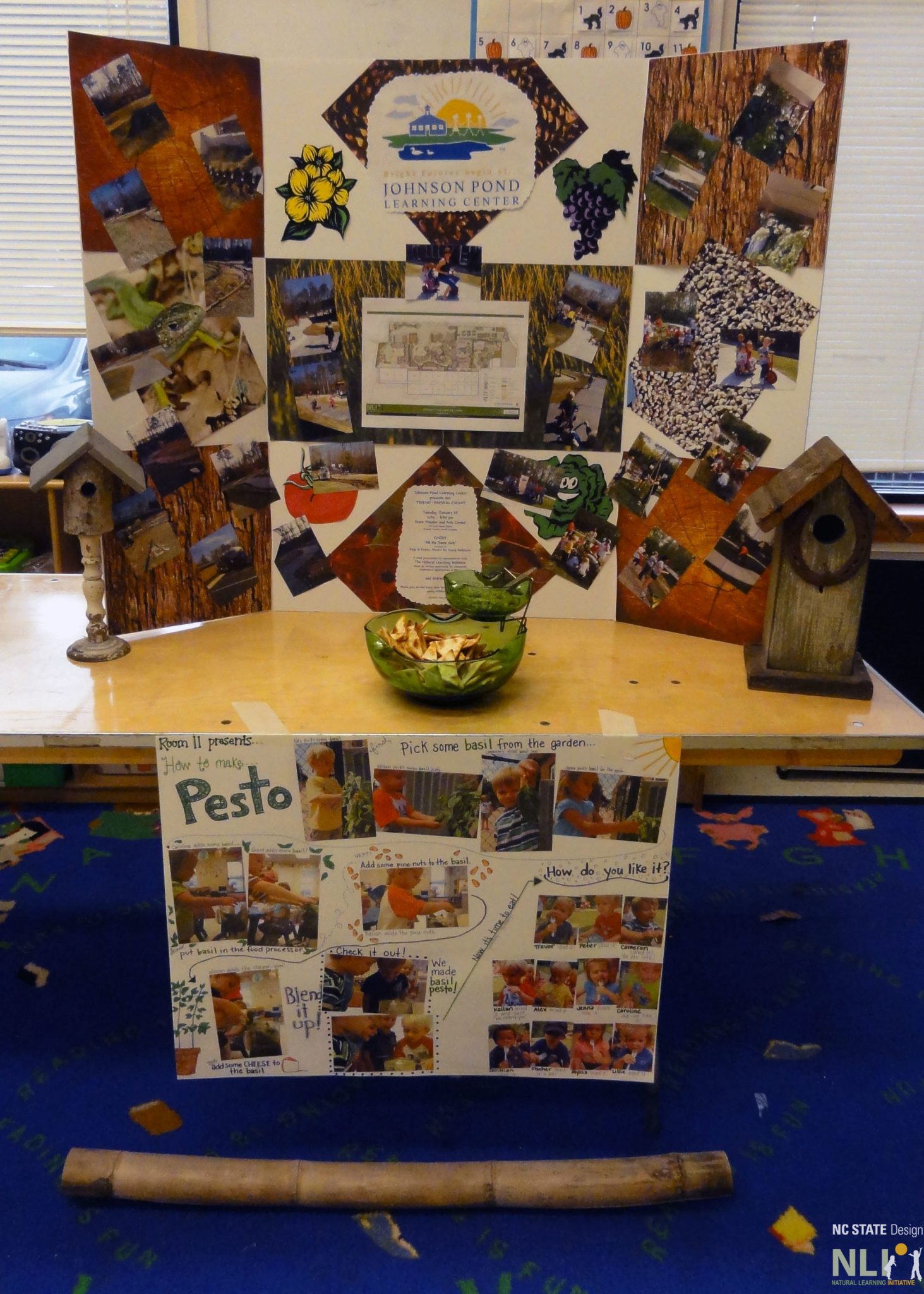 Johnson Pond Child Development Center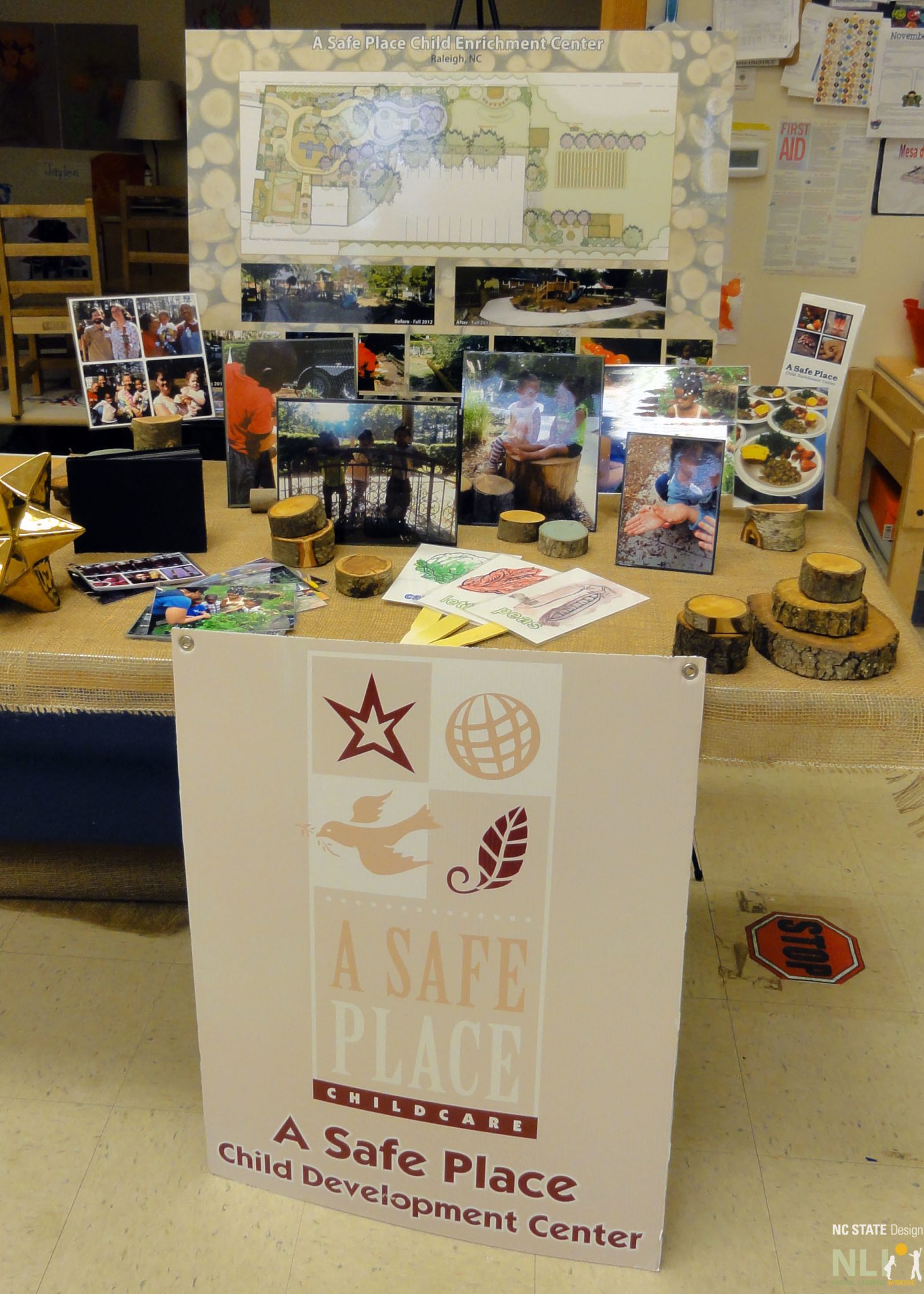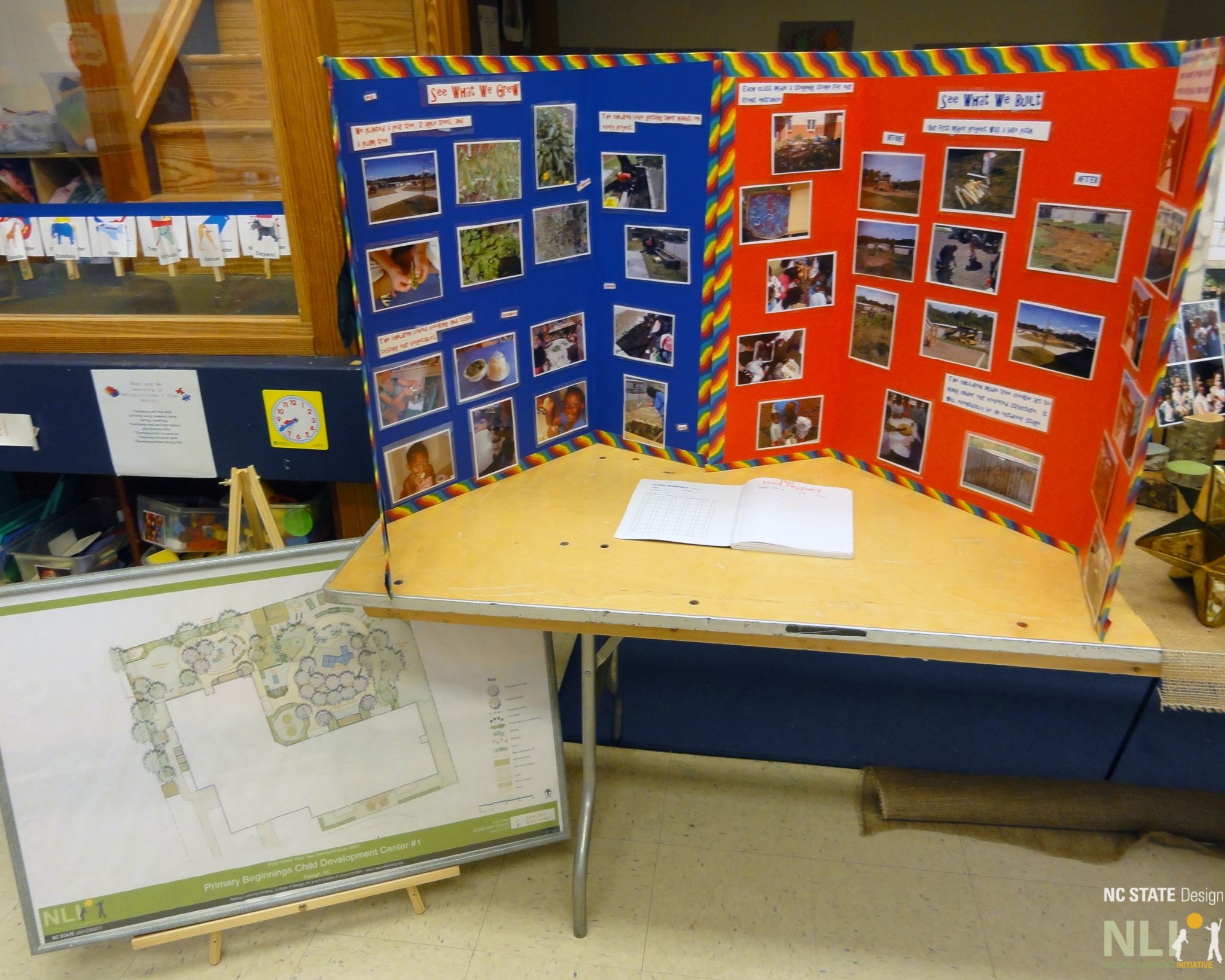 Primary Beginnings Child Development Center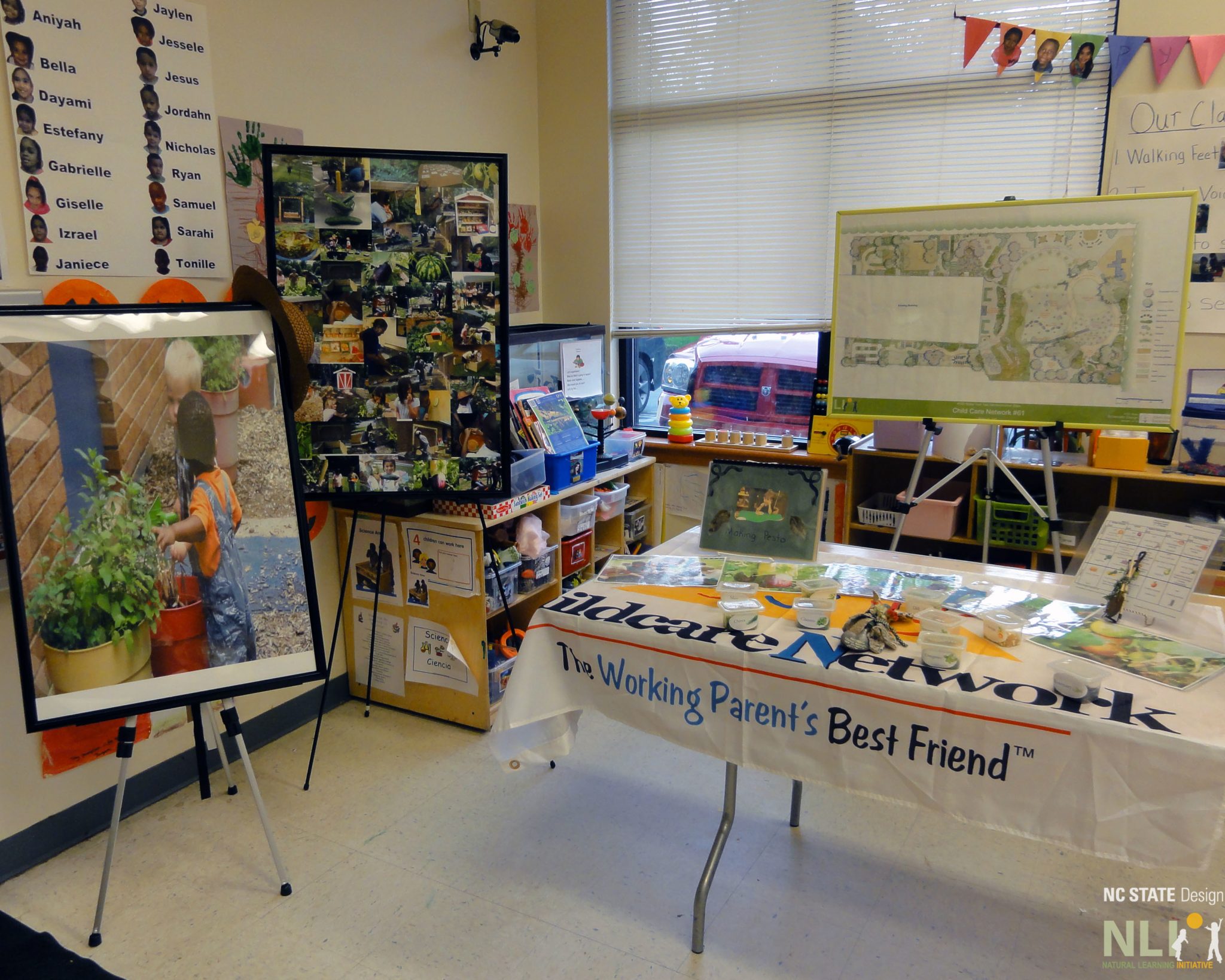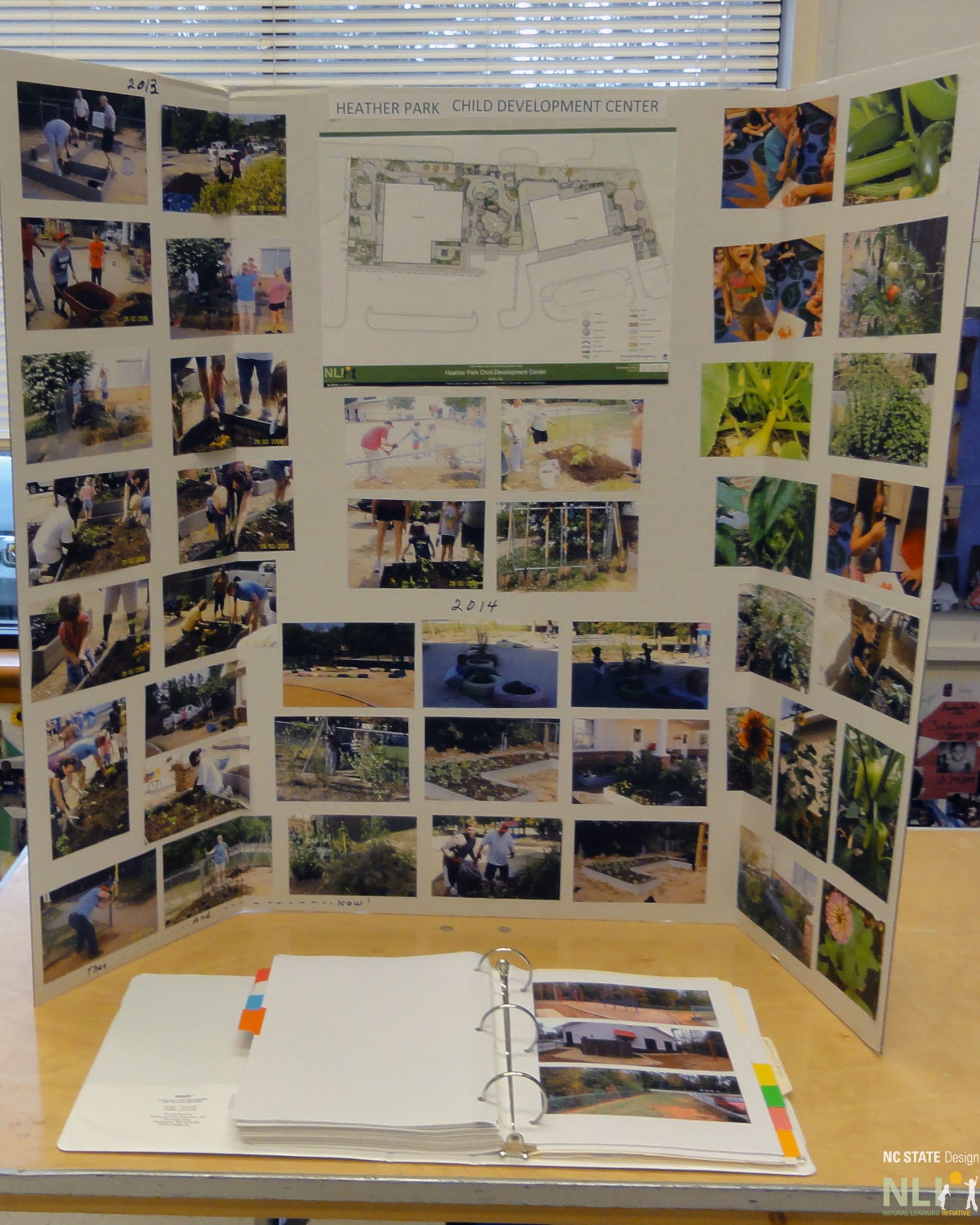 Heather Park Child Development Center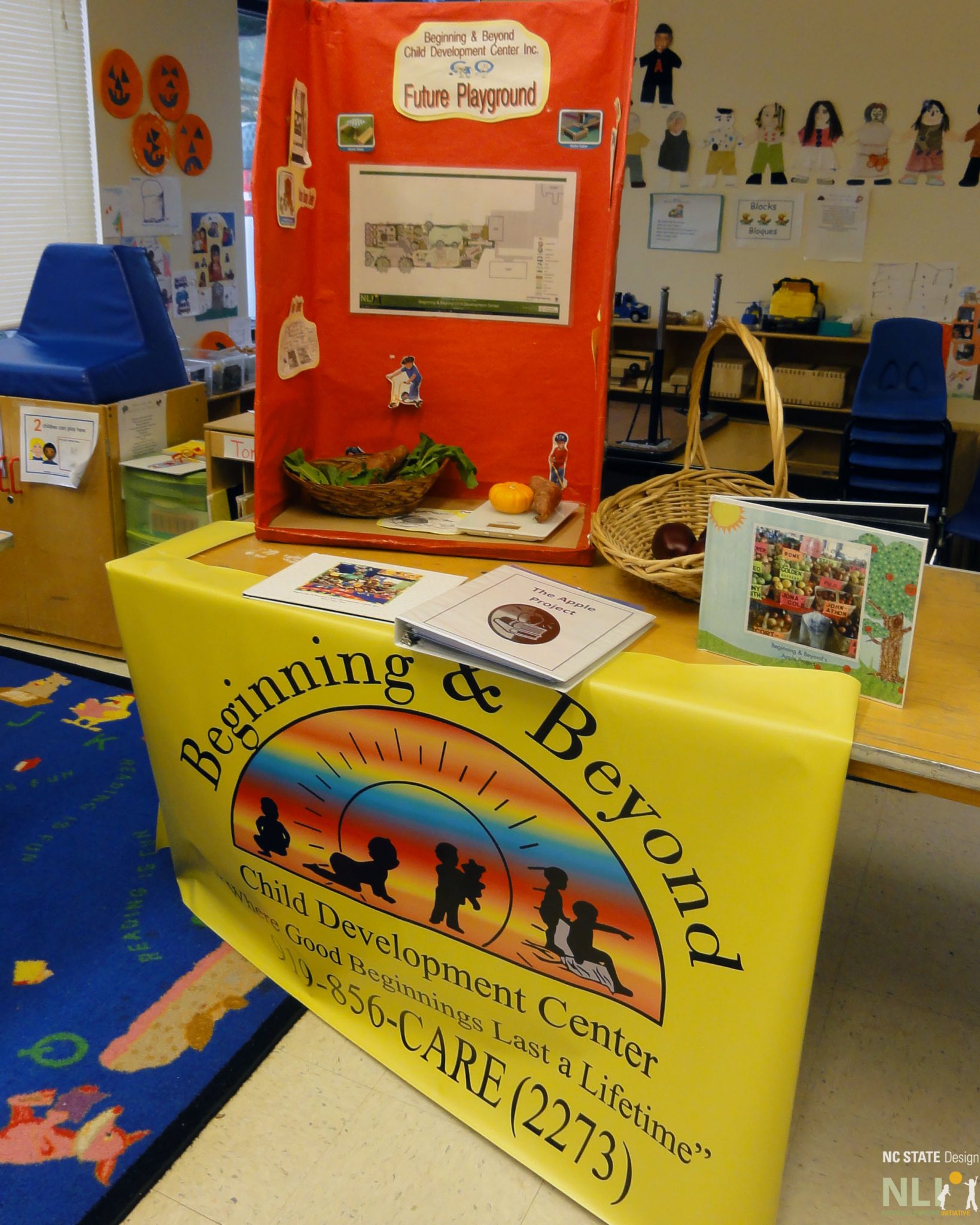 Beginning and Beyond Child Development Center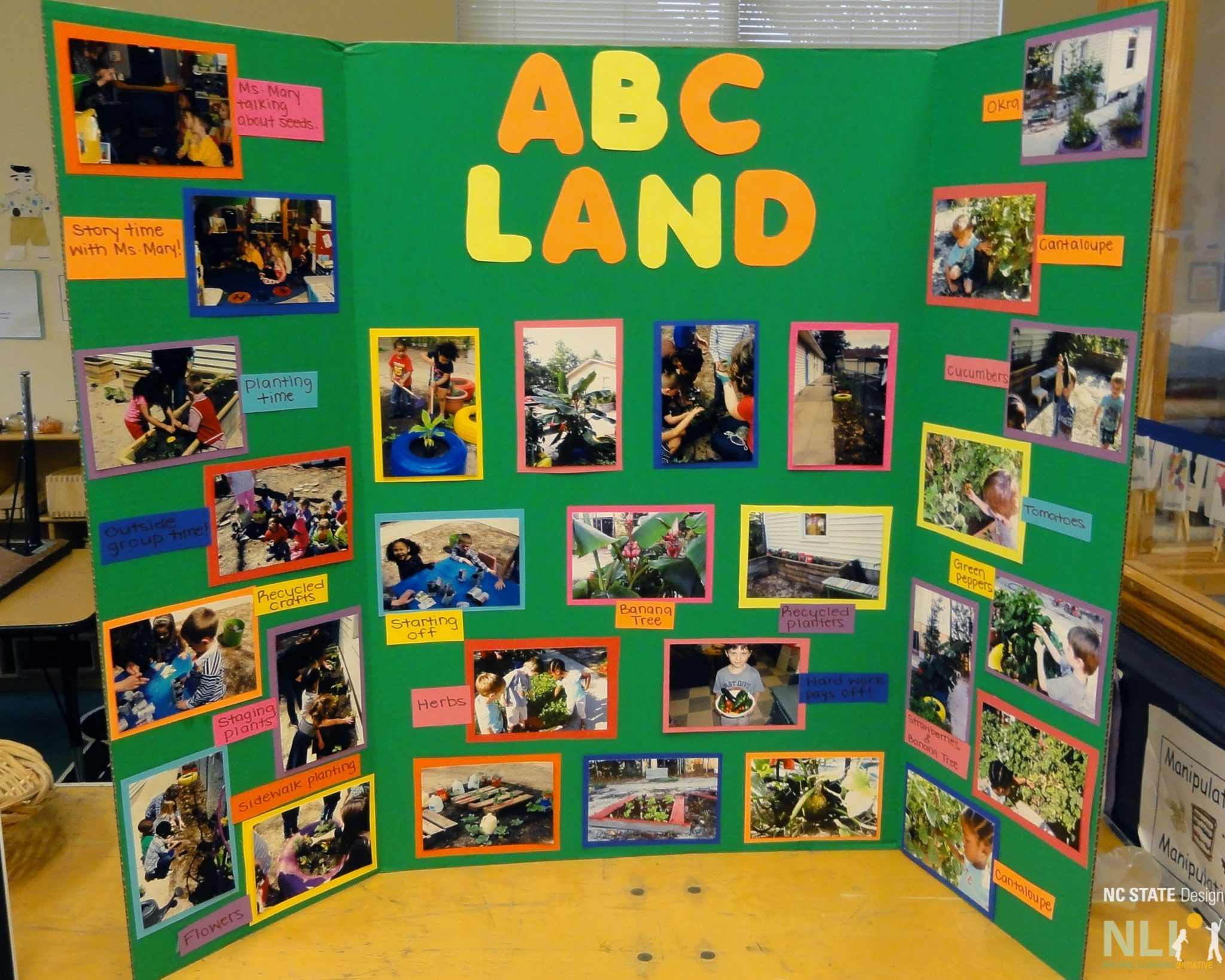 NLI's recommendations for the Heather Park CDC includes a story telling circle, which symposium participants were able to implement in 45 minutes. This hands-on activity gave everyone a chance to experience first hand the steps towards installing stump seats and planting small shrubs and trees. Participants left with a sense of accomplishment after completing this project and Heather Park is able to take advantage of a new setting as a result of hosting the symposium!
Visitors take in the fruited arbor at A Kind Garden (left) and walk along the wooden plank wheeled toy pathway (right). No matter what size, the potential for an OLE is great!
The POD Wake County Gathering and Tour presents a showcase of the progress in creating naturalized childcare center Outdoor Learning Environments (OLEs) in Wake County. Presentations and bus tours to the POD Wake Co demonstration OLEs show how the Preventing Obesity by Design program supports children's outdoor activity and engages children in gardening, healthy eating, and outdoor learning. During the event you will visit three POD Wake Demonstration sites.
2017 Gathering and Tour, July 13, 2017, visited:
A Safe Place Child Enrichment Center, 1216 Cross Link Road,

Raleigh

Childcare Network #61, 4905 Western Boulevard, Raleigh
Holly Springs Academy, 116 Quantum Drive, Holly Springs
2016 Gathering and Tour, August 4, 2016, visited:
Johnson Pond Learning Center, 6523 Johnson Pond Road, Fuquay-Varina
A Kind Garden, 838 Belmont Drive, Raleigh
Raleigh Nursery School, 1035 Halifax Street, Raleigh
2015 Gathering and Tour, May 28, 2015, visited:
ABC Land, Inc., 610 Raymond Drive, Wendell
Beginning & Beyond Child Development Center, 322 E. Cabarrus Street, Raleigh
A Safe Place Child Enrichment Center, 1216 Cross Link Road, Raleigh
---