what we do
Increasing numbers of children are growing up with insufficient contact with the natural world. To counteract this trend, the Natural Learning Initiative offers evidence-based design assistance, professional development, and information resources to advance experience of the natural environment in the daily lives of all children.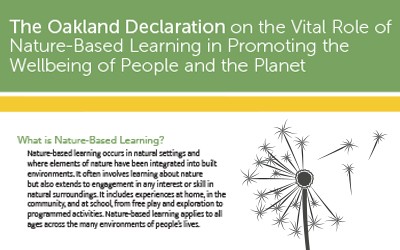 The Nature-Based Learning Network (NBLN) gathering at the Children & Nature Network International Leadership Summit, Oakland, California, May 2018, provided an opportunity to create an international declaration on nature-based learning.
read more
Virtual field trip of childcare outdoor learning environments. POD considers the design of outdoor environments in early childhood as a preventative health intervention.
read more
Did You Know Outdoor Time…
Supports gross motor skills
Encourages healthy eating
Improves eyesight
Promotes cognitive development
Improves academic performance
Lessens ADHD symptoms
Promotes self-confidence
Reduces stress