Creating environments for healthy human development and a healthy biosphere for generations to come.
Increasing numbers of children are growing up with insufficient contact with the natural world. To counteract this trend, the Natural Learning Initiative offers evidence-based design assistance, professional development, and information resources to advance experience of the natural environment in the daily lives of all children.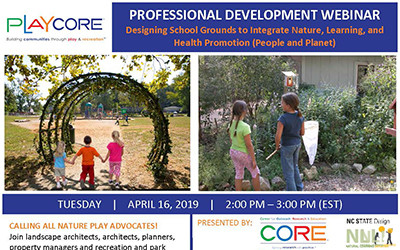 Children and youth have a legal obligation to attend school. School environments, especially public schools, should be designed and managed for this special population as high-quality environmental equalizers for students from a range of socio-economic backgrounds,...
read more
Did You Know Outdoor Time…
Supports gross motor skills
Encourages healthy eating
Improves eyesight
Promotes cognitive development
Improves academic performance
Lessens ADHD symptoms
Promotes self-confidence
Reduces stress