USDA Childcare Outdoor Learning Environments as Active Food Systems (COLEAFS)
Mounting enthusiasm for gardening interventions as an obesity prevention strategy recognizes gardening as a vehicle for encouraging young children to taste and consume fresh produce. The aim of this project is to measure the effectiveness of the Preventing Obesity by Design (POD) hands-on gardening component to support preschool fruit and vegetable consumption, liking, and knowledge, and to increase physical activity in vulnerable preschool children attending childcare. Because childcare centers are policy sensitive institutions, demonstration of the benefits of best practice interventions may inform and encourage regulators to adopt innovative policies.
Long-term project goals:
Influence childcare regulations to include hands-on FV gardening as health promotion strategy (policy and QRIS systems).
Increase awareness and understanding of early childhood physical activity and healthy eating through hands-on FV gardening.
Increase the consumption of fresh fruit and vegetables (FV) by preschoolers.
Integrated Proposal Objectives:
Research Function
Assess the impact of a Gardening Component on 4-5 year olds, enrolled in 15 childcare centers in Wake Co, NC.
Using a waitlist/control group, randomized controlled trial (RCT) research design, assess the impact of gardening on children's physical activity, FV liking, FV knowledge, and consumption.
Education and Extension Functions
Research findings translation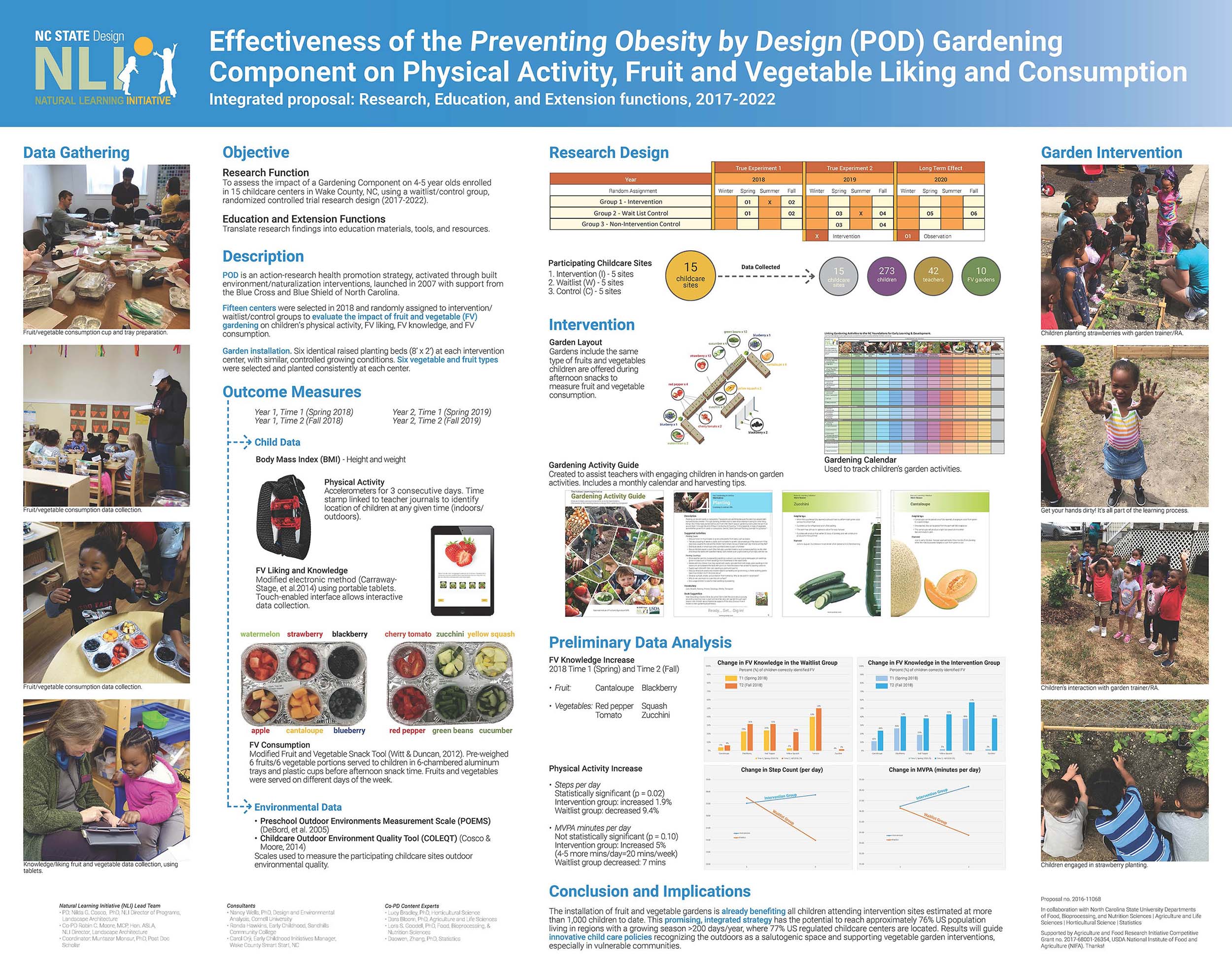 Lead Team Natural Learning Initiative, College of Design, NC State University
Nilda G. Cosco,  PhD, Director of Programs, Principal Investigator
Robin C. Moore, MCP, Hon.ASLA, Department of Landscape Architecture, Director, Co-PI
Muntazar Monsur, PhD, Post Doc Scholar, Study Coordinator
Content Experts
Lora S. Goodell, PhD; Food, Bioprocessing, and Nutrition Sciences; NC State University
Lucy Bradley, PhD, Horticultural Science, NC State University
Dara Bloom, PhD, Agriculture and Life Sciences, NC State University
Ronda Hawkins, Early Childhood Professor, Sandhills Community College
Carol Orji, Early Childhood Initiatives Manager, Wake Co. Smart Start, NC
Nancy Wells, PhD, Professor, College of Human Ecology, Cornell University
Daowen, Zhang, PhD, Statistics, NC State University
Research Assistants
Laura Lloyd, BS, Professional Development Program Associate
Bria Sledge, MA, Early Childhood Program Assistant
Zhuowei Li, MHS, Design Assistant
---