OLE at Glencoe Mill Village
The Outdoor Learning Environment in Glencoe Mill Village Historic District, Burlington, NC, was initiated by the Alamance County Partnership for Children in 2012 as an innovative, community-based, nature play and learning area and early childhood education training site.
Collaborators included NLI and Hedgehog Holdings, at the time rehabilitating buildings of the historic mill (the reason why the Village existed). The proposed site was an elongated, undeveloped corner lot down the street from the Partnership. The Haw River, once powering the mill, is across the street, which is also on the North Carolina Mountains-to-the-Sea long distance trail traversing the state. Quite a location!
A "community of interest" survey administered by NLI kicked off the project, which netted responses from early childhood educators, local organizations, residents, and Partnership board members. The response was universally positive, underscoring the importance of outdoor play and children's engagement with nature as a health promoting learning environment. The dual-use concept of open access to the neighborhood, while serving as a place for professional development was fully supported by respondents.
The next step was a Design Workshop that included a site safari, discussion of survey results, and collaborative work on the main lines of the design based on program content prioritized in the survey, completed later by NLI after further cycles of review and feedback.
Tremendous community engagement and contributions from local leaders enabled rapid site clearance, minimal grading, and installation of diverse natural activity settings supporting the needs of all ages. A recent wave of upgrades by skilled volunteers coordinated by the Partnership have increased the OLE's value as a village play and learning "community commons," now entering its second decade of evolution.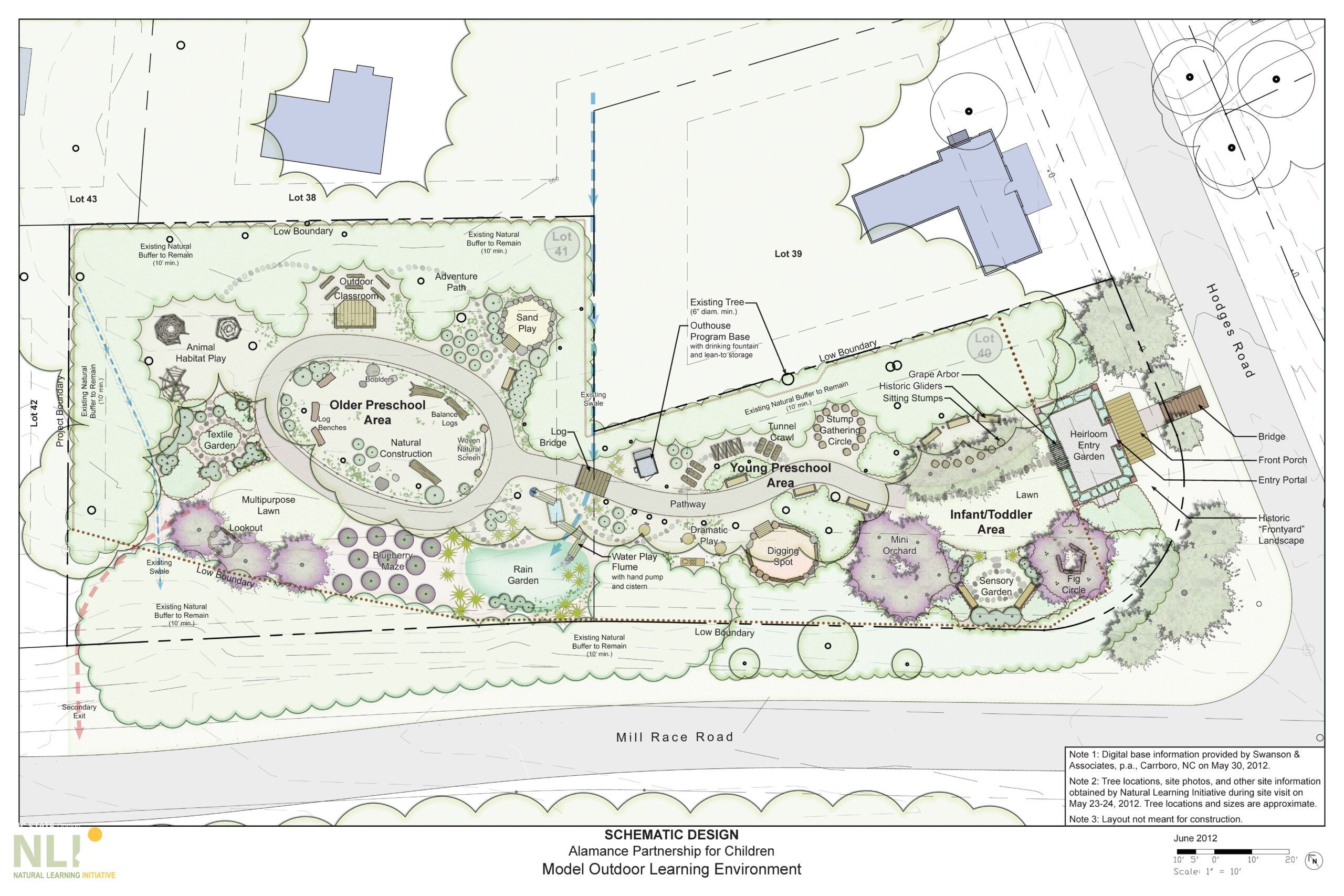 Outdoor Learning Environments at Glencoe Mill Village
Design: Natural Learning Initiative, 2012
Keys to success:
Front end survey to test viability of the concept and to gather design program priorities.
Design Workshop with the community of interest to achieve a sense of ownership and motivate implementation.
Evidence-based/informed expertise of community-based early childhood nature play and learning designers.
Collaboration with experienced historic real estate developers able to articulate the added value of such a project.
Long-term institutional role of the Partnership for Children as initiator, promotor, and manager of the space as a neighborhood commons and training site.
Given added value of an historic, long-distance trail, river corridor location.
Please Continue Exploring!
---