Preventing Obesity by Design (POD), was launched in 2007 with support from the Blue Cross and Blue Shield of North Carolina Foundation (BCBSNC), to revolutionize the way we think about the design and management of early childhood outdoor learning environments (OLEs) – the term that replaced "playground" in North Carolina licensing rules in 2007. POD is an action-research health promotion strategy, activated through built environment/naturalization interventions. Grounded in North Carolina childcare/development centers, POD has gone through several iterations and has been adopted at the state level by Texas, South Carolina, and Colorado. Nebraska is also making progress.
The aim of POD is to create comfortable OLEs with diverse activity settings that irresistibly "pull" children and teachers outside to enjoy higher levels of physical play activity, hands-on gardening, and outdoor learning. POD is a "one health" model focused simultaneously on human health promotion and ecological restoration. The approach contributes to strategic system change through the improvement of OLE quality as a professional training vehicle, with primary intended outcomes of change in behavior combined with bio-restoration, so teachers and children learn together how life can be restored to the earth.
"These gardening activities remind me of my childhood. Activities like canning are becoming a lost art and it is important to pass them onto future generations… if they grow up and can't buy food, they will at least have the skills to plant a seed."
The POD action-research orientation addresses the need for applied research conducted on the installed environment to observe the behavioral response. The aim is to create an evidence base related to the local context so that future developments can be informed, as elegantly illustrated by Zeisel (2006, 25-32, 95-97). Action research also recognizes the difficulty of matching timelines of project implementation and research support, which ideally would include an expanded sample and control sites, with research conducted by a third party. Bricks-and-mortar (or landscape) funding rarely supports research at this level and vice-versa: research funding usually does not support implementation. However, carefully managed project evaluation can yield sufficient data to compare the impact of pre-post site renovations (Cosco, Moore and Smith 2014). Results provide evidence-based/informed tools for decision-makers to use to embark on built environment interventions to improve OLE quality to support child health.
Naturalization is an important goal because the vast majority of childcare/development centers (approximately 114,000 in the U.S) are "micro-sites" where natural ecosystems must be restored, designed, and managed in such a way that allows use by dozens of children and as well as bio-recovery. Naturalization offers children opportunities to engage with the natural world of plants and animals through self-motivated free play and learning experiences (informal and teacher-directed).
The POD approach offers naturalization as a cost-effective means of improving OLE environmental quality. The preschool outdoors is already a strong determinant of children's physical activity. Naturalization adds value by supporting play with nature, improving microclimatic comfort for children and teachers, and motivating extended time outdoors to achieve higher levels of physical activity. "Edible landscape" is a complementary health promotion component consisting of permanent, fruiting species integrated into the OLE, along with designated vegetable gardens.
Measuring OLE quality is a critical part of the POD process. Research demonstrates that a compact mix of diverse natural and manufactured settings, containing a multitude of natural loose parts offers the richest play and learning experiences that carry over with new discoveries each day. Play sparks the learning process for the child, through which the world is discovered and assimilated via the senses, laying the groundwork for cognitive understanding in later stages of development. NLI has created a suite of tools to measure POD quality, including the valid, reliable Preschool Outdoor Assessment Measurement Scale (POEMS), behavior mapping, and the Childcare Outdoor Learning Environments Quality Tool (COLEQT), which measures four level of quality across 12 built environment activity settings considered as strong supports of healthy child development.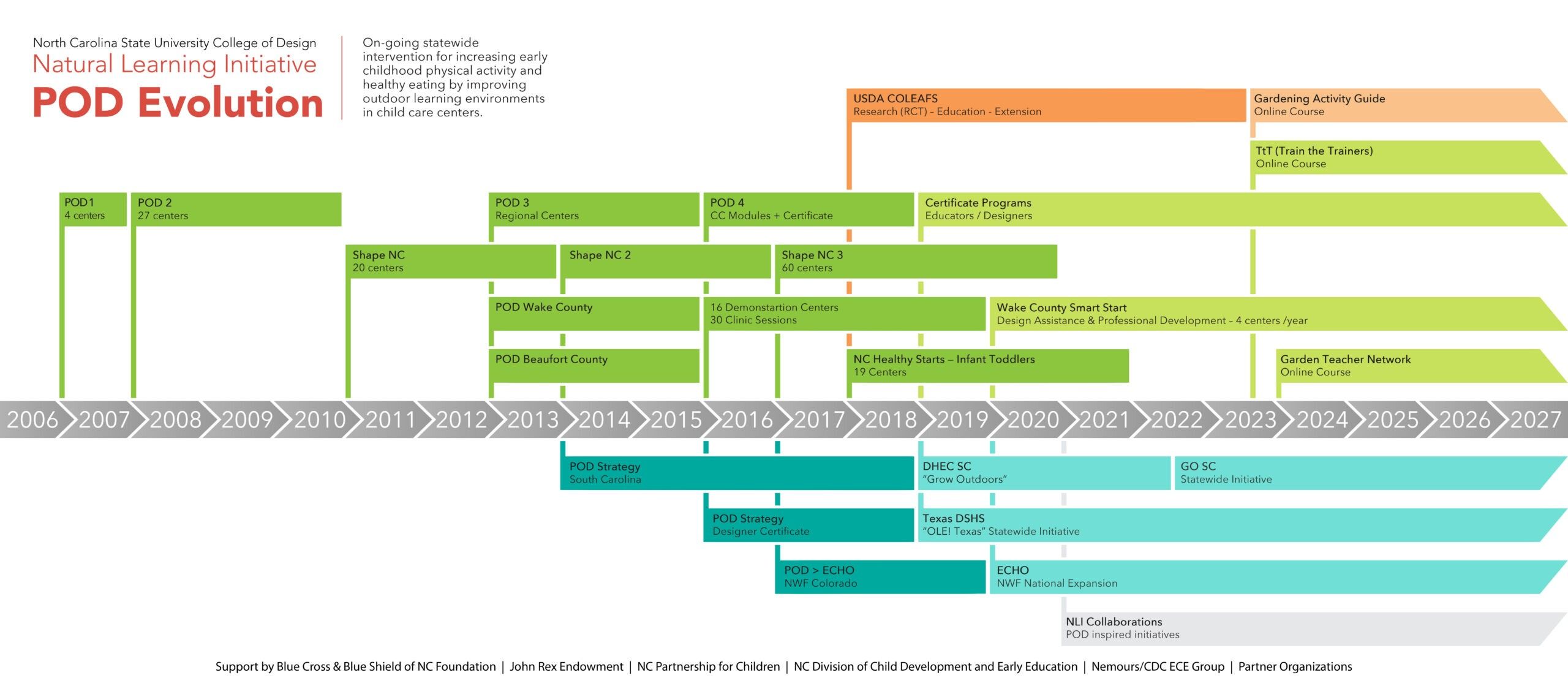 ---