Walnut Creek Wetland Center
The Walnut Creek Wetlands Center (WCWC) is the cornerstone of Walnut Creek 2000, an action program developed by Partners for Environmental Justice (PEJ), focused on the conservation and restoration of the 60 acre Walnut Creek wetlands and floodplain in Southeast Raleigh, near downtown. NLI collaborated with Frank Harmon Architect on the design of WCWC, which provides an educational/recreational resource located on the City of Raleigh's Greenway system and managed by the Raleigh Department of Recreation and Parks.
Walnut Creek 2000 was initiated in the late 1990s by a broad base of Wake County citizens, led by PEJ's Dr. Norman Camp. Initial landscape analysis, planning, and design for the project originated in a 1998 Department of Landscape Architecture interdisciplinary design studio, conducted by Robin Moore. Subsequently, NLI worked with PEJ to develop a design program and conceptual master plan for the wetlands park as part of Walnut Creek 2000. Interracial partnerships were essential to the success of this project to generate awareness of the multiple benefits of wetlands.
In addition to wetlands restoration, the WCWC provides education, recreation, and economic benefits to Southeast Raleigh and the greater metropolitan area. Opportunities for children and families to connect with nature are abundantat the WCWC, whether they are participating in planned wetland and environmental activities or exploring the trails, creek, and wetland wildlife.
With headwaters originating in Cary, NC, Walnut Creek meanders into Lake Johnson and Lake Raleigh on NC State's Centennial Campus, flows through the most urbanized region of the Neuse River basin, continues eastward through the Southeast Raleigh floodplain, merges with Big Branch flowing directly into the Neuse River, eventually reaching Pamlico Sound and the Atlantic ocean.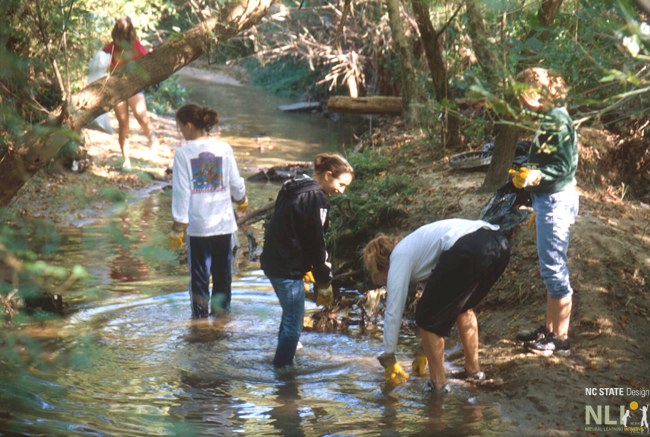 ---