How can I install tire planters in the outdoor learning environment?
Tire planters are universally available, inexpensive, and are a great addition to any low-cost outdoor learning environment naturalization.
Old tires + soil + plants = instant planting bed, path buffer, or border planting
Tires can be found inexpensively at almost any local car repair shop or tire store. If you stack more than one tire, fasten them together so they don't slide apart, using bolts to connect the adjoining tire walls.
Don't plant edibles in tires because as the tires degrade the plants may absorb some of the chemicals from the rubber.
Single and double tire planters used to edge a pathway. Before filling a double tire planter with soil, be sure to secure the tires together. Drill holes through the sidewalls of the tires and use a bolt, two washers, and a nut to secure them together.
​
Do you have any tips for painting tire planters? Specifically, what type of paint can be used on tire planters that is durable and safe for early childhood outdoor learning environments?
Wash the tires. So the paint adheres, thoroughly wash the tires with soap and water.  A non-toxic degreaser may also be required to remove tougher grime.
Prime the tires. Once the tires dry, prime them with a spray primer. This will also help the paint adhere to the tires.
Choose a durable, non-toxic outdoor paint. The paint can be brushed on, which might be more fun, or sprayed on, which is easier. We recommend commercial grade paint for industrial and marine use, but any durable, non-toxic outdoor paint will do.
Choose light colors. Black tires absorb more of the sun's energy and can get hot, which is not good for the plants or children. Painting tires with light colors reflect light and helps keep the plants and children cooler.
Let the children paint the tires. Children enjoy painting the tires and seeing their masterpieces in the OLE.
Be creative. Bright colors and patterns can add a little something extra to the OLE.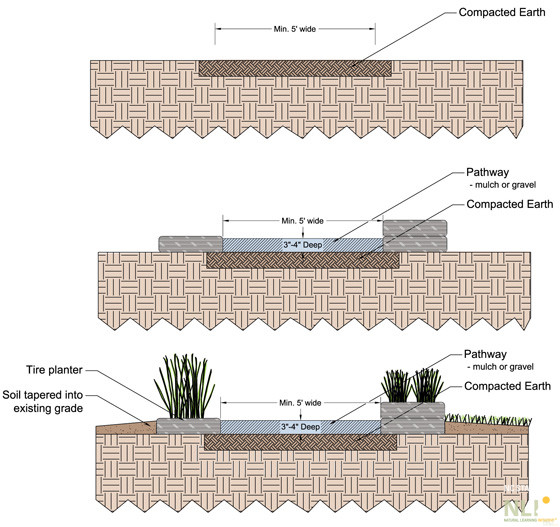 ---