Preschool Outdoor Environment Measurement Scale (POEMS) was designed to provide direction to teachers and administrators who want to offer high-quality outdoor programs and provide hands-on opportunities for children in preschool outdoor learning environments. The scale is intended to guide quality improvements of outdoor children's environments and promote child development and learning. By using the instrument as a self-study, the items can serve as a menu of strategies to work toward higher-quality outdoor activities. The goal is to encourage childcare centers not only to measure up to an average level of outdoor quality, but to also discover how to excel.
Learning Outcomes
Learn about creating higher-quality environments for children's outdoor play and learning.
Describe the settings and components found in a high-quality outdoor learning environment using the proper terminology.
Demonstrate ability to assess outdoor learning environments using POEMS as a research instrument to study the implications of outdoor environmental quality on children's development and learning.
Demonstrate ability to use POEMS as an improvement tool by interpreting results and creating action plans for enhancement.
Apply methods for creating and managing high-quality environments to support outdoor experiential learning over time.
Program Modules
Program Modules are intended to immerse participants in what characterizes outdoor learning environments, how to assess them, and how to use the POEMS as a tool for improvement. Content includes:
The importance of outdoor learning environments for healthy child development.
Preschool Outdoor Environment Measurement Scale (POEMS). Step-by-step description.
Using POEMS as a tool for improvement.
Who is the training for?
Early childhood technical assistance providers
Early childhood educators
Public health professionals supporting early childhood programs
This course is worth 0.2 Continuing Education Units (CEUs) from North Carolina State University​.
Stay tuned to the NLI Newsletter for announcements about future course offerings!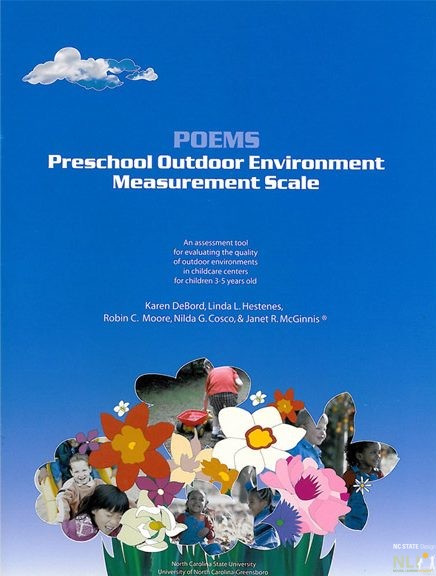 ---