Natural Play and Learning Area Guidelines Project
The National Wildlife Federation and the Natural Learning Initiative are developing national guidelines for play and learning areas, due out in 2014. As outlined in the NWF's policy action plan, Connecting Kids with Nature, children are faced with many options for staying indoors and few options for getting outside, connecting with nature, and acquiring the life skills only available through interacting with nature. The project is supported by The U.S. Forest Service, with matching efforts from sites developing nature play areas.
The resulting publication will offer policy and practice guidelines for natural play areas in childhood and family institutions: childcare centers, municipal parks, public schools, and federal lands. Research based design concepts that bring children and families together with their natural environments, in a variety of settings.  The project will promote guideline adoption by stakeholder professional associations, governments, and regulatory bodies.
The Nature Play and Learning Area Registry is currently soliciting and compiling a registry of Nature Play and Learning Areas to support and potentially illustrate the best practice criteria specified in the Guidelines.
With the NWF/NLI partnership taking the lead and administering the project, fourteen leading national organizations were called to serve on the project steering committee, by aiding in the development and promotion of the guidelines and providing review going forward. Organizations include the American Society of Landscape Architects, the Centers for Disease Control, the Chicago Park District, the Children & Nature Network, the City Park Alliance, Head Start Body Start National Center for Physical Development and Outdoor Play, the Houston Parks and Recreation Department, Keep America Beautiful, the National Arbor Day Foundation/Dimensions Educational Research Foundation, the National Association of State Park Directors, the National Recreation and Parks Association, the North American Association for Environmental Education, the U.S. Fish and Wildlife Service, and the U.S. Forest Service.
In connection with the national guidelines, in June of 2011, NWF and NLI partnered with the U.S. Fish and Wildlife Service to pilot the use of a designed natural play and learning area within a refuge in the Nature Play Corps project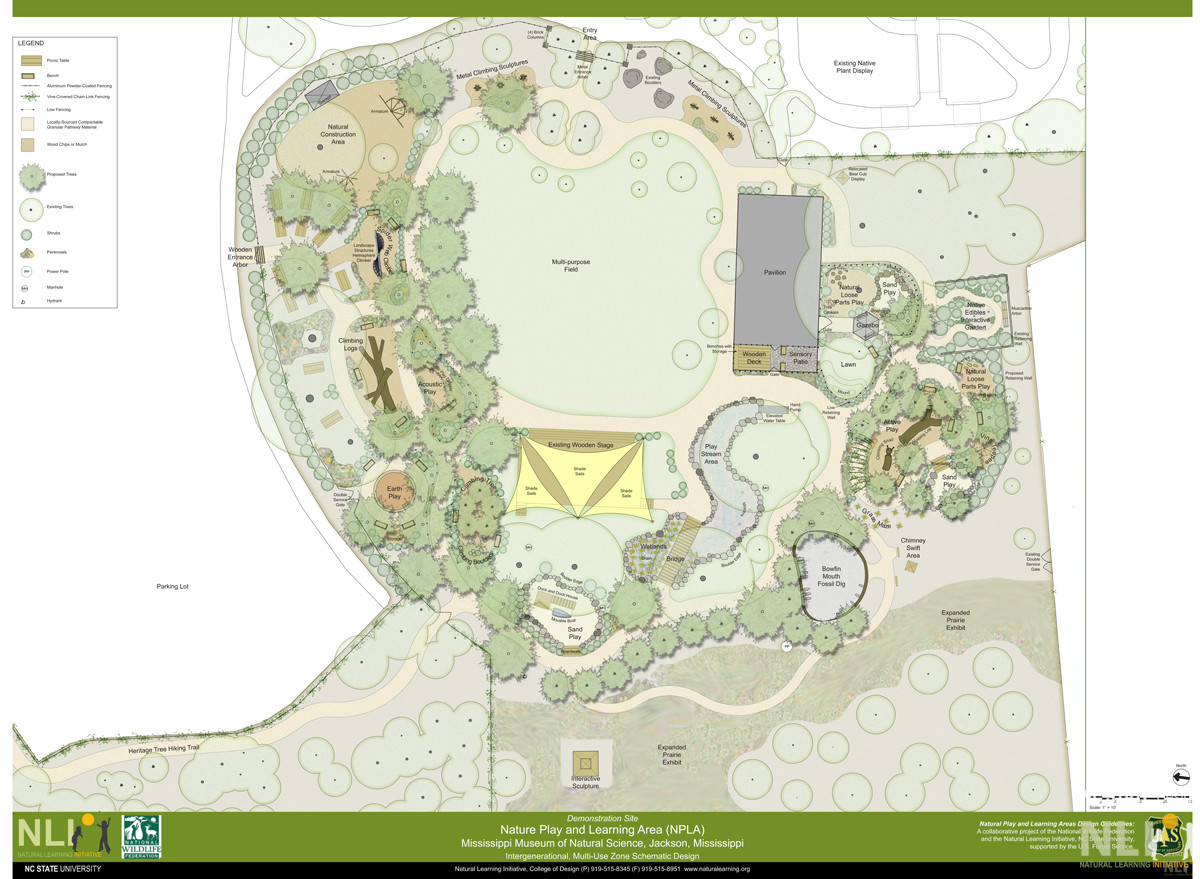 Natural Play & Learning Areas
Design Guidelines Project Steering Committee
Bill Beckner Senior Research Manager, National Recreation and Park Association SL
Cecile Carson Senior Director of Affiliate Development, Keep America Beautiful
Todd Catchpole Park Manager, Five Rivers MetroParks E
Cheryl Charles Co-Founder, President, and CEO Emerita, Children & Nature Network CHD
Allen Cooper Director State Education Policy, National Wildlife Federation SL
Luci Correa Council Liaison, Houston Parks and Recreation Department
Nilda Cosco Director of Programs, Natural Learning Initiative, College of Design, North Carolina Sate University
Rich Dolesh Vice President for Conservation and Parks, National Recreation and Park Association GS
Cindy Dunlap Chief, Planning Projects Section, Pennsylvania Department of Conservation and Natural, Resources, Bureau of Recreation and Conservation GS
Blain Eckberg Training Specialist, US Fish and Wildlife Service CHD
Mary Eysenbach Director of Conservatories, Chicago Park District
Ken Finch President, Green Hearts Institute for Nature in Childhood E
Teri Hendy President, Sitemasters, Inc. SL
Bill Hopple Executive Director, Cincinnati Nature Center
Fran Mainella Visiting Scholar Clemson University, Chair of Children & Nature Network, Co-chair of US Play Coalition, 16th Director of National Park Service, US Play Coalition
Michelle Mathis Principal Designer, Learning Landscapes Design and Oregon Natural Play Initiative GS
Dee Merriam Community Planner, Centers for Disease Control and Prevention GS
Robin Moore Professor of Landscape Architecture, Director Natural Learning Initiative, College of Design, North Carolina State University
Sandi Olek Representative, Maryland Department of Nature Resources GS
Stephanie Olmore Director of Program Assessment
National Association for the Education of Young Children
Carrie Scarff Deputy Director
Five Rivers MetroParks
Bora Simmons Director, National Project for
Excellence in Environmental Education North American
Association for Environmental Education E
Nancy Stremple Natural Resource Specialist,
Executive Staff, National Urban and Community
Forestry Advisory Council US Forest Service
Joe Turner Director
Houston Parks and Recreation Department
Susie Wirth Outreach Director
Arbor Day Foundation and Dimensions Educational
Research Foundation CHD
Anita Asperdt Principal Landscape Architect, Adjunct Faculty, LandCurrent, University of Oregon, University of British Columbia SL
Dennis Casey Director of Education and Public Programs, Virginia Museum of Natural History GS
Kim Catchpole Extension Educator, Program Director, Adventure Central (A partnership of Five Rivers MetroParks and Ohio State University) GS
Erik Dahlstrom Outdoor Recreation Coordinator, Five Rivers MetroParks SL
Victor Elderton Principal co-Administrator, North Vancouver Outdoor School, SD 44 E
Heather Fox Education Specialist, Nature Explore Program MM
Elaine Gibson Nature Education Specialist, Santa Barbara Museum of Natural History SL
Nancy Herron Outreach & Education Director, Texas Parks and Wildlife Department E
Heather Johnson Project Director, Initiatives, Association of Children's Museums CHD
Ruth Loetterle Landscape Architect, CRJA Landscape Architects GS
Jill McKain Nature Explore Classroom Designer, Nature Explore, Dimensions Educational Research Foundation GS
Erica Quigley Teacher naturalist, Mass Audubon's Boston Nature Center MM
Amy Rampy Associate Landscape Designer, TBG Partners SL
Tina Reeble Council Liaison, Dimensions Educational Research Foundation CHD SL
Julie Rose Programs Liason Manager, Nature Explore Program CHD
Caroline Smith Playground Safety Manager, National Recreation and Park Association GS
David Spease President, Safeplay by Design, Inc. SL
Dave Spitler Park Manager, Five Rivers MetroParks MM
Jim Wike Nature Explore Classroom Design Director, Nature Explore Program MM
Urban Greenspaces GS
Child Health & Development CHD
Environmental Understanding & Stewardship E
Management & Maintenance MM
---