Director of Programs, The Natural Learning Initiative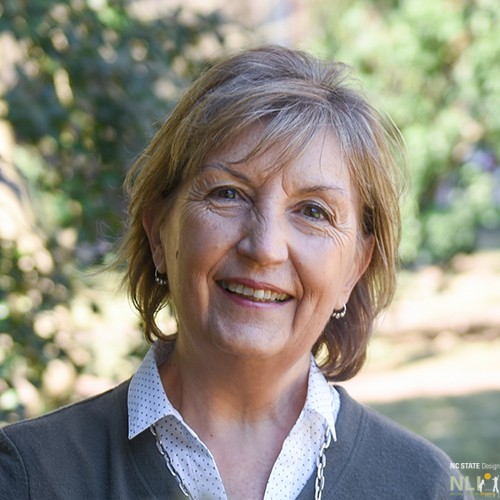 Nilda Cosco, PhD, is Director of Programs, The Natural Learning Initiative; Research Associate Professor, College of Design; and former Director of the Center for Universal Design. Her responsibilities include: design programming and research of outdoor environments for children with and without disabilities; development of professional development certificates and activities for designers, educators, and community members interested in creating high quality outdoor environments for children and families; development of printed and online dissemination materials; and coordination of state-wide comprehensive projects (design, environmental intervention, training, and evaluation) including Preventing Obesity by Design (POD).
Dr. Cosco holds a degree in Educational Psychology, Universidad del Salvador, Buenos Aires, Argentina and a Ph.D. in Landscape Architecture, School of Landscape Architecture, Heriot Watt University / Edinburgh College of Art, Scotland.
Her primary research interest is the impact of outdoor environments on child and family health outcomes such as healthy nutrition, active lifestyles, attention functioning, and overall wellbeing, particularly as they relate to natural components of the built environment. She is principal investigator (PI) for the USDA-NIFA randomized controlled trial Childcare Outdoor Learning Environments as Active Food Systems: Effectiveness of the Preventing Obesity by Design (POD) Gardening Component.
In January 2000, Dr. Cosco co-founded with Professor Robin Moore the Natural Learning Initiative (NLI) at the College of Design, NC State University.
Cosco, N. and Moore, R. Behaviour Mapping for Designing Healthy Outdoor Environments for Children and Families: Conceptual Framework, Procedures, and Applications. In Ward Thompson, C. and Bell, S., Innovative Approaches to Research Excellence in Landscape and Health. London: Taylor & Francis. 2010
Cosco, N., Moore R., Islam Z. Behavior Mapping: A Method for Linking Preschool Physical Activity and Outdoor Design. Med Sci Sports Exerc. March 2010; 42(3):pp 513-519. doi: 10.1249/MSS.0b013e3181cea27a.
Cosco, N. Co-editor. (2008-present) Creating Healthy Outdoor Environments for Young Children. Information Sheets. Raleigh, NC: North Carolina State University.
Moore, R. with The Natural Learning Initiative Team. (2009). Creating and Retrofitting Play Environments: Designing Play Environments that Integrate Manufactured Play Equipment with the Living Landscape.Best Practice Guidelines. Chattanooga, TN: PlayCore.
Cosco, N. and Moore, R. (2009). Sensory Integration and Contact with Nature: Designing Outdoor Inclusive Environments. North American Montessori Teachers Association. NAMTA Journal.
Myron F. Floyd, William R. Smith, Jason N. Bocarro, Perver Baran, Robin Moore, Nilda Cosco, Timia Thompson.(2008) Gender-specific models of correlates of physical activity among children in neighborhood parks. Abstract submitted to the 2009 National Recreation and Park Association, Leisure Research Symposium.
Moore, R. and Cosco, N. (2007). Greening Montessori School Grounds by Design. NAMTA Journal.
Moore, R. and Cosco, N. (2007). What Makes a Park Inclusive and Universally Designed? A Multi-Method Approach. In Open Space People Space. Ward Thompson, C., Travlou, P. (Eds.). London: Taylor and Francis.
Cosco, N. 2007. Developing Evidence-Based Design: Environmental Interventions For Healthy Development of Young Children in the Outdoors in Ward-Thompson, C. and Travlou, P. (eds) Open Space: People Space. London: Taylor and Francis.