Developing an Earth-bound Culture Through Design of Childhood Habitats
Authors: Moore, Robin; & Cosco, Nilda.
The biological health of the planet and the health of the world's children are interdependent. Together they form a single ecosystem under the potential influence and protection of the social construct of sustainable development. Childhood is the most critical stage in the human life cycle. A small but growing body of research indicates that daily experience of nature, spending time outdoors in the fresh air and sunlight, in touch with plants and animals, has a measurable impact on healthy child development. Children have a right to develop in an environment that stimulates their healthy development as mandated by the UN Convention on the Rights of the Child. To fulfill this mandate, nature must be seen as an essential component of the experiential world of childhood, designed into every childhood habitat, providing daily immersion in nature, putting children in close touch with the biosphere. In the urban world we live in, implementation of this right cannot be left to chance. It is a design imperative.
Presented at the international conference on People. Land and Sustainability. University of Nottingham, Faculty of Social Sciences. September 13-16, 2000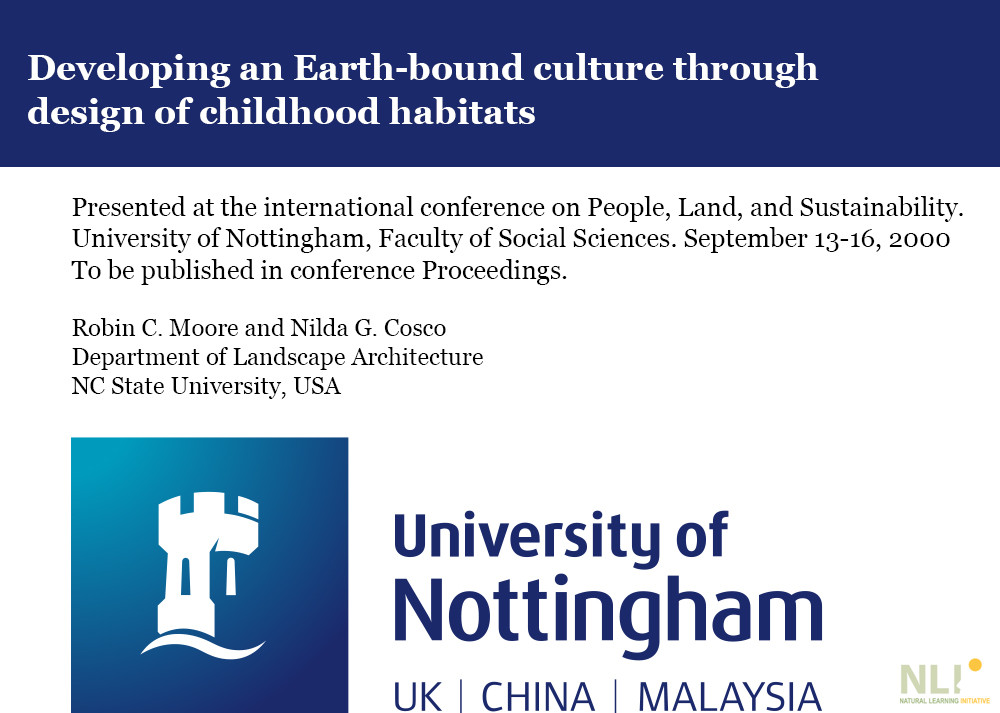 ---