20th Anniversary NLI Design Institute
Re-Naturing Urban Childhood: Towards a Healthy, Sustainable Culture
Re-Naturing increases biodiversity and supports positive human development: it broadens the diversity of children's play and learning experiences, contributes to positive physical, social-emotional, and cognitive development, boosts human immune systems, calms and de-stresses, exposes children to living ecosystems and stimulates their curiosity to explore the wonders of nature early in life.
Louise Chawla, PhD – Professor Emerita, Program in Environmental Design, University of Colorado, Boulder
Cam Collyer, MA – Executive Lead, Children, Nature, Schoolgrounds, Evergreen, Toronto, Canada
Nilda Cosco, PhD – Associate Research Professor of Landscape Architecture, Director of Programs, NLI, NC State University
Roger Hart, PhD – Professor, Director Children's Environments Research Group (CERG), City University of New York
Isami Kinoshita, PhD – Professor, Department of Landscape Architecture, Faculty of Horticulture, Chiba University, Japan
Karla Leonhardt-Zacharias – Cultural Pedagogue, PA/Speilkultur, Munich, Germany.
Robin Moore, MCP, HonASLA – Professor of Landscape Architecture, Director, NLI, NC State University
Cari Browning, MA – Physical Activity Coordinator, Health Promotion and Chronic Disease Prevention Section, Texas Department of State Health Services, TX
Linda Kinney, MA – kidZone/Playful Pedagogy, Conservation Education and Science, North Carolina Zoo, Asheboro, NC
Charles Klein, PhD – Associate Professor, Department of Landscape Architecture, Texas Tech, Lubbock, TX.
Michele Kloda, MS – Director of Learning Environments, Museum of Life and Science, Durham, NC.
Joanna Lelekacs, MLA, PLA – Director of Education, North Carolina Botanical Garden, UNC, Chapel Hill, NC
Sarah Konradi, PLA – Program Director, Early Childhood Health Outdoors ECHO, National Wildlife Federation, Rocky Mountain Regional Center, Denver, CO.
Misty Pearson, M Ed – Early Care and Education Consultant, Division of Nutrition, Physical Activity, and Obesity Prevention
Department of Health & Environmental Control, SC
Charles Yelton, MS – Regional Network Chief, North Carolina Museum of Natural Sciences, Raleigh, NC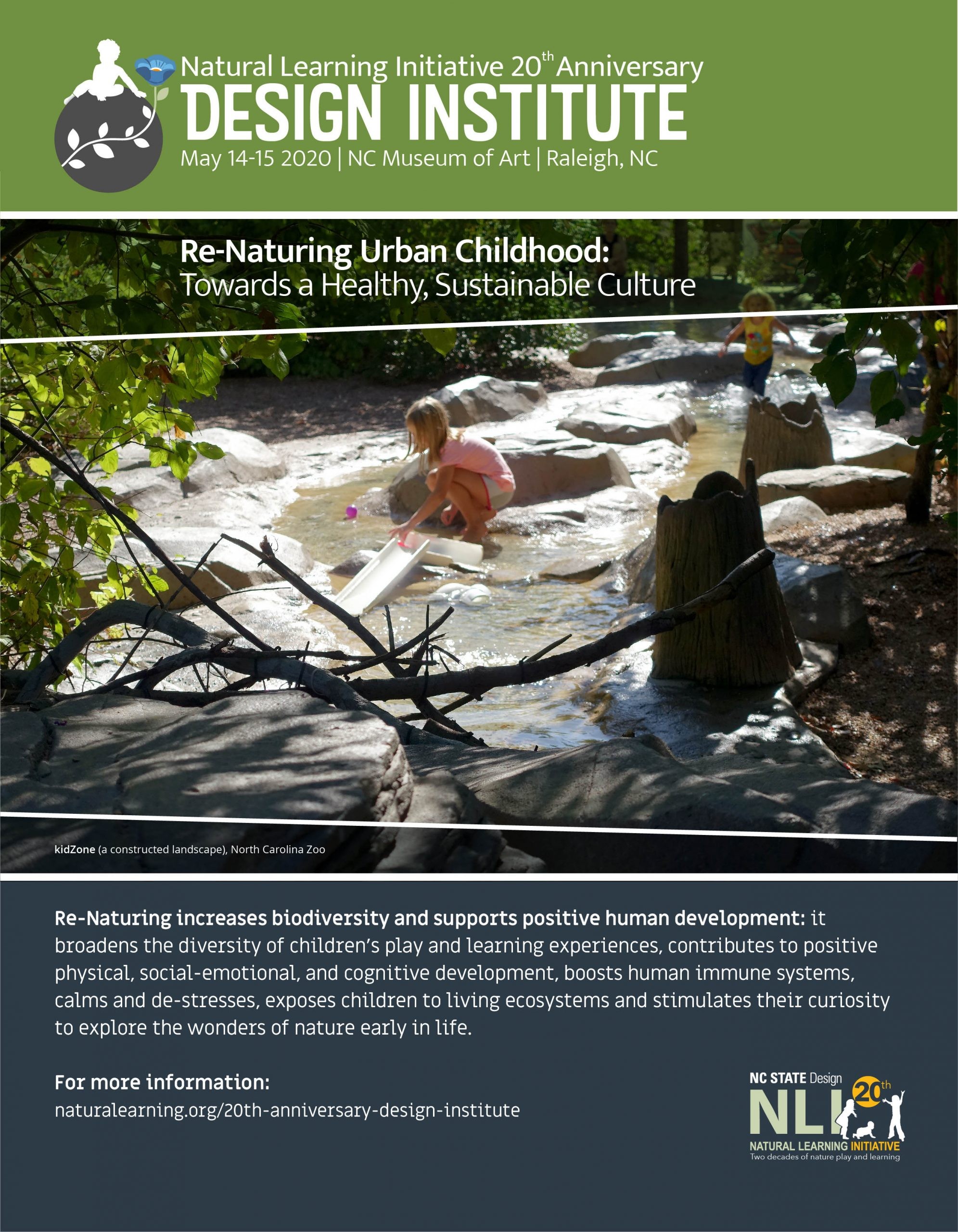 General Registration: $275
Early Childhood Educator/Students: $195
Discounts are available for groups of 5 or more. Please contact Laura Lloyd at
ljlloyd@ncsu.edu
 for more information.
A limited number of scholarships are available for educators, professionals working with children and families, and students. If in need of assistance, complete the
scholarship request form.
Completing this form does not guarantee a scholarship.