Ball Play and Experiences
Outdoor Play & Learning Activity
Ball Play and Experiences
Outdoor Play & Learning Activity
Setting:
Designated Play Area (near the fence)
Focus:
Retrieving Balls
Curricular Areas:
Physical Development: Large and Fine Motor Development (retrieving, throwing, and rolling loose parts)
Problem-Solving
Language Development: Receptive and Expressive Language
Cognitive Development: Colors
Mathematics Knowledge and Skills: counting, matching, sorting, comparing, serialization, one-to-one correspondence.
Physical development using balls includes physical well-being, use of the body, muscle control, and motor development. These physical tasks and skills are foundational to young children's learning. Motor skills permit children to fully explore and function in their environment, and support development in all other domains.
Materials
2 ft. diameter wire cylinder for ball storage. Attach to adjacent fence about 5′ high. At the bottom of the cylinder, create an open and close latched door at ground level large enough for largest ball to roll through.
At least a dozen balls of different sizes and colors.
Suggestions:
Fill wire cylinder with balls.
Model for children how to open the latch and door allowing a ball to roll out onto the ground and closing door after each ball rolls out.
Increase children's language and cognitive development by sharing attributes of the ball that rolls out (color and size), and using action words (such as roll, catch, throw, toss, fast, slow, etc.)
Enhance children's problem-solving skills by modeling how to retrieve ball from the cylinder (opening the latch and door, catching the ball as it rolls out, and closing the door and latch to prevent other balls from rolling out.
Increase children's math skills by modeling counting, matching, sorting, serializing, and one-to-one correspondence.
Introduce cooperative play by modeling for children how throw or roll a ball to each other.
Return ball to cylinder once child has completed his play so that children can continue to experience retrieving the ball through the latched door.
Take photos of children's ball experiences and post indoors.
Provide opportunities for children to recall their ball experience (color, size, number, etc.) once they return to indoor classroom.
Engaging Parents:
Allow children to "borrow" photos to take home overnight and share their experiences with parents.
Encourage parents to purchase inexpensive balls for home use, sharing with them the how children's growth and learning in the curricular and developmental areas above.
Encourage parent to take photos of children experiencing ball play at home and send to classroom for children to share their experiences with teacher and other children.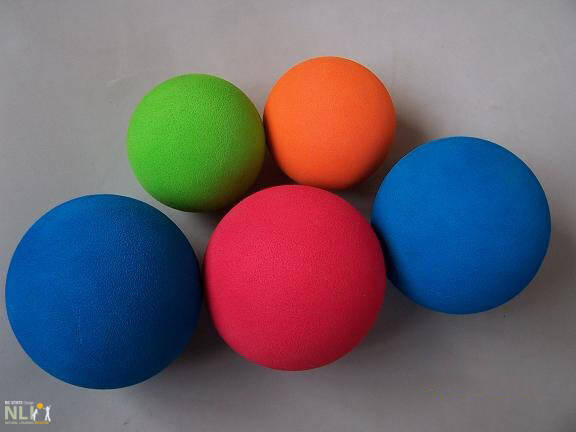 Balls of various sizes and colors
Ball Play and Experiences
Ball Play and Experiences
The Natural Learning Initiative (NLI) assumes no responsibility for the installation of outdoor components and/or designs and their use. In no event will NLI be liable for any loss or damage including without limitation, indirect or consequential, incurred during the construction or use of the outdoor learning environment.
Please adhere to U.S. CPSC Guidelines and local regulations
© 2023 Natural Learning Initiative. All rights reserved. www.naturalearning.org
---